Outdoor Burning Restrictions are in effect June 1st through October 1st :
​
Burning yard waste, such as leaves, grass, brush and other yard trimmings are prohibited.

Burning to clear land of trees, stumps, shrubbery, or other natural vegetation is prohibited.

Residents may still have campfires so long as the fire is in an approved pit or area.

Restricted open flame devices, meaning using devices liable to start a fire in moderate fire hazard areas

Portable fireplaces are allowed so long as they're on noncombustible surfaces and burn only natural wood products.

Moderate travel restrictions are also in effect, meaning motorists can't operate vehicles off the roadway

Campfires in Compliant pits may be allowed during this time, check for current restrictions.

Portable Propane Campfires are usually allowed under these restrictions but can still be dangerous depending on conditions

During a burn ban, fire danger is increased and burning brush, needles or yard waste is not allowed and will be extinguished.
Station Tours:
​
If you are interested in visiting a Lake Wenatchee Fire & Rescue station, please give us a call at 509-763-3034. We offer free blood pressure checks, tours of our apparatus and equipment as well as fire safety lessons. You may also stop by if you see personnel at the station. If we do not answer we may be out on a call.
Fire Safety Events:
​
Lake Wenatchee Fire & Rescue is proud to provide fire safety events to the community. One of our events is our Annual Safety Day which occurs at the end of May. We also provide fire safety visits to our local schools and the Lake Wenatchee YMCA Camp in July. Lastly we provide safety demonstrations of our equipment, teach the importance of camp fire safety, and show our fire trucks at the Lake Wenatchee State Park Amphitheater which generally is every Saturday from June-August.
CPR – or Cardiopulmonary Resuscitation – is an emergency lifesaving procedure performed when the heart stops beating. Immediate CPR can double or triple chances of survival after cardiac arrest.
​
The 5 links in the adult out-of-hospital Chain of Survival are:
Recognition of cardiac arrest and activation of the emergency response system (calling 9-1-1 in the US)

Early CPR with an emphasis on chest compressions

Rapid defibrillation

Basic and advanced emergency medical services

Advanced life support and post-cardiac arrest care
A strong Chain of Survival can improve chances of survival and recovery for victims of cardiac arrest.
​
To learn more about CPR click here.
​
*Information Obtained from American Heart Association
Fire Prevention & General Safety
Smoke Alarms
​
A closed door may slow the spread of smoke, heat and fire. Install smoke alarms in every sleeping room and outside each separate sleeping area. Install alarms on every level of the home.
​​
Smoke alarms should be interconnected. When one sounds, they all sound.
​​
Large homes may need extra smoke alarms.
​​
Test your smoke alarms at least once a month. Press the test button to be sure the alarm is working.
​​
Today's smoke alarms will be more technologically advanced to respond to a multitude of fire conditions, yet mitigate false alarms.
​​
When a smoke alarm sounds, get outside and stay outside.
​​
Replace all smoke alarms in your home every 10 years.
​
* Information Obtained from NFPA
Carbon Monoxide Alarms
​
CO alarms should be installed in a central location outside each sleeping area and on every level of the home and in other locations where required by applicable laws, codes or standards. For the best protection, interconnect all CO alarms throughout the home. When one sounds, they all sound.
​​
Follow the manufacturer's instructions for placement and mounting height.
​​
Choose a CO alarm that has the label of a recognized testing laboratory.
​​
Call your local fire department's non-emergency number to find out what number to call if the CO alarm sounds.
​​
Test CO alarms at least once a month; replace them according to the manufacturer's instructions.
​​
If the audible trouble signal sounds, check for low batteries. If the battery is low, replace it. If it still sounds, call the fire department.
​​
If the CO alarm sounds, immediately move to a fresh air location outdoors or by an open window or door. Make sure everyone inside the home is accounted for. Call for help from a fresh air location and stay there until emergency personnel.
​​
If you need to warm a vehicle, remove it from the garage immediately after starting it. Do not run a vehicle or other fueled engine or motor indoors, even if garage doors are open. Make sure the exhaust pipe of a running vehicle is not covered with snow.
​​
During and after a snowstorm, make sure vents for the dryer, furnace, stove, and fireplace are clear of snow build-up.
​​
A generator should be used in a well-ventilated location outdoors away from windows, doors and vent openings.
​​
Gas or charcoal grills can produce CO — only use outside.
​
* Information Obtained from NFPA
Fire Extinguishers
​
Use a portable fire extinguisher when the fire is confined to a small area, such as a wastebasket, and is not growing; everyone has exited the building; the fire department has been called or is being called; and the room is not filled with smoke.
​​
To operate a fire extinguisher, remember the word PASS:
Pull the pin. Hold the extinguisher with the nozzle pointing away from you, and release the locking mechanism.
Aim low. Point the extinguisher at the base of the fire.
​
Squeeze the lever slowly and evenly.
​
Sweep the nozzle from side-to-side.
​
For the home, select a multi-purpose extinguisher (can be used on all types of home fires) that is large enough to put out a small fire, but not so heavy as to be difficult to handle.
​​
Choose a fire extinguisher that carries the label of an independent testing laboratory.
​​
Read the instructions that come with the fire extinguisher and become familiar with its parts and operation before a fire breaks out. Local fire departments or fire equipment distributors often offer hands-on fire extinguisher trainings.
​​
Install fire extinguishers close to an exit and keep your back to a clear exit when you use the device so you can make an easy escape if the fire cannot be controlled. If the room fills with smoke, leave immediately.
​​
Know when to go. Fire extinguishers are one element of a fire response plan, but the primary element is safe escape. Every household should have a home fire escape plan and working smoke alarms.
​​
* Information Obtained from NFPA
Chimney Safety
Tips for Chimney Safety
Making sure your fireplace and chimney get a regular cleaning is a must. Avoid using green or unseasoned wood, the moisture and pitch can lead to the build-up of creosote. Creosote is the by-product of combustion and can adhere to the walls of your chimney/stove pipe and can in some cases ignite, causing us to show up, unexpectedly.
​
Burning paper, especially holiday wrapping (high ink content) can cause the creosote in the stack to ignite.
​
If you haven't been to the cabin in a while, it is a good idea to start with a small fire, to see if the "critters" moved into the chimney while it wasn't in use.
​
Ember screening can disintegrate over time and may need replacing, not only for stopping embers from escaping but for keeping the critters out!
​
Pre-packaged fire logs are intended to be used one at a time and they are intended to burn themselves up. Poking them with a poker increases the heat output and dramatically increases the chances of a chimney fire.
​
If you have a chimney fire, do not reuse the fireplace or stove until it gets cleaned and inspected. Fires can loosen connectors, drop creosote onto the ledges, thus creating a more dangerous situation the next time it ignites.
Disclaimer: Working on steep pitched roofs can be dangerous to your health! Eliminating the chimney fire and creating a medical emergency is not our goal. Be safe, when necessary used a trained professional and despite what old-timers say, "Just build a good ripper and that'll take care of the creosote!"
NOT a good idea!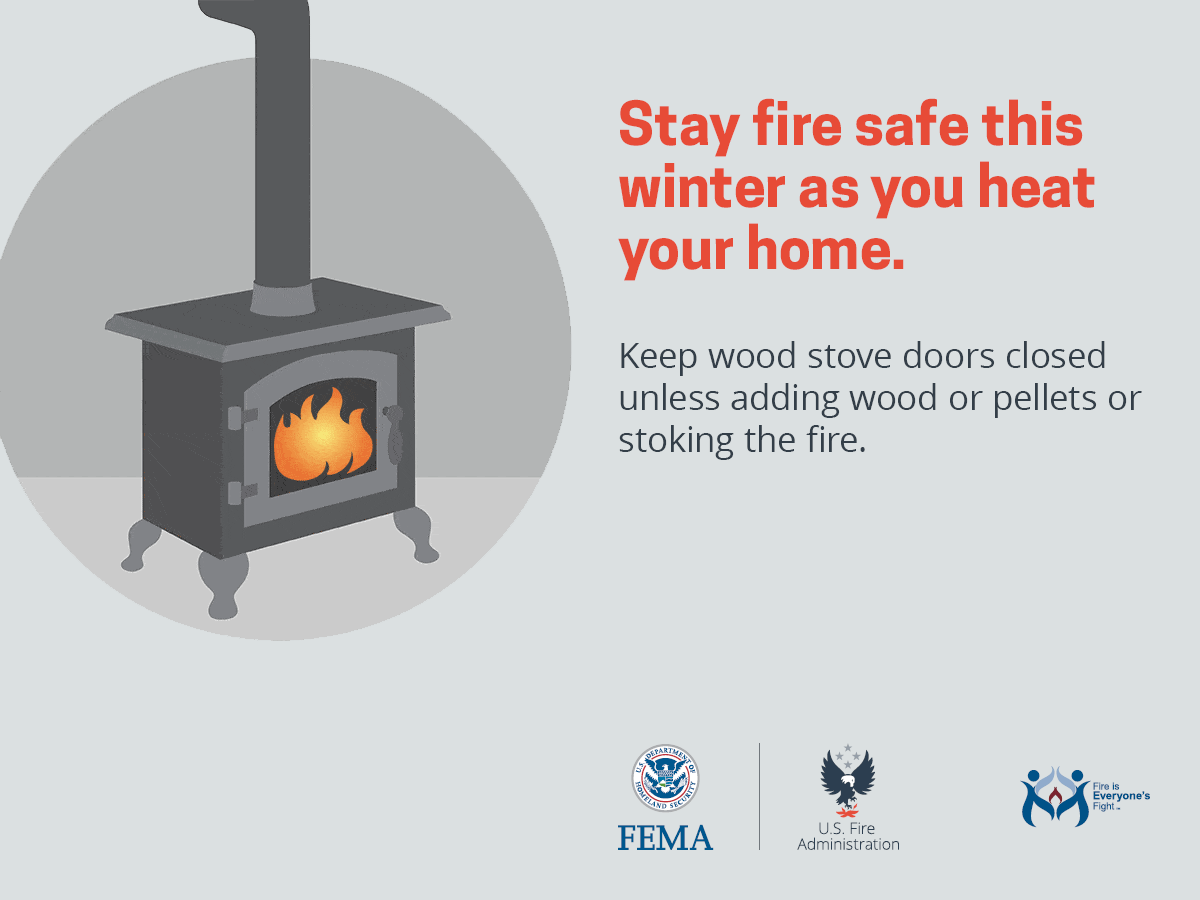 Fire Hydrants
Keep a 3 foot area around hydrants clear of debris or obstructions so fire crews can make access during an emergency.
​
During the winter time it is important to keep fire hydrants near your home or business clear of snow.
Vehicles should not park within 15 feet from a hydrant.
​
Auto Emergency Kits
In case you are stranded, keep an emergency supply kit in your car with the addition of these automobile extras:
​
Jumper cables

Flares or reflective triangle

Ice scraper

Car cell phone charger

Blanket

Map

Cat litter or sand for better tire traction
​
* Information Obtained from Ready.gov
​
Vehicle Safety Tips
Keep your gas tank full in case of evacuation or power outages. A full tank will also keep the fuel line from freezing

Install good winter tires and ensure they have adequate tread or any jurisdiction-required chains or studs

Do not drive through flooded areas. Six inches of water can cause a vehicle to lose control or possibly stall. A foot of water will float many cars.

Be aware of areas where floodwaters have receded. Roads may have weakened and could collapse under the weight of a car.

If a power line falls on your car you are at risk of electrical shock, stay inside until a trained person removes the wire.

If there is an explosion or other factor that makes it difficult to control the vehicle, pull over, stop the car and set the parking brake.

If the emergency could impact the physical stability of the roadway avoid overpasses, bridges, power lines, signs and other hazards
​